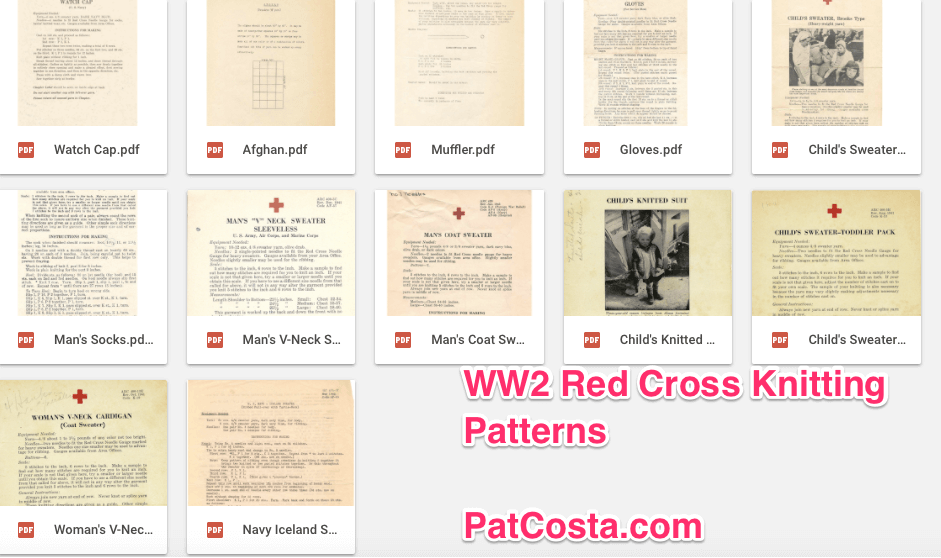 WW2 Red Cross Reproduction Knitting Patterns for WW2 Reenactors
During World War I and again during World War II, the American Red Cross launched nationwide, volunteer-driven knitting campaigns to supply soldiers and war refugees with warm clothing. These volunteer knitters belonged to a Red Cross unit called the Production Corps that also produced bandages and sewn garments (such as pajamas) for veterans and civilian hospitals.
Military knitting patterns were designed to be compatible with soldiers' and sailors' uniforms and were required to be knitted in olive drab or navy blue. Production Corps volunteers would also knit from patterns designed for convalescing soldiers, such as the "Walking Cast Toe Sock," the "Cap for the Bandaged Head" and the "Man's Coat Sweater."
The chart below shows some different patterns for knitting. The Wristlets pattern comes courtesy of the Estate of Ray and Anita Sexton, Oneida, TN (*).
During World War II, the Red Cross Production Corps was by far the most popular unit with over 3.5 million members, spread throughout 3,304 chapters. Unlike other volunteer jobs, there was no prerequisite training, and recruitment and task assignments were accomplished quickly. The women, and in some cases the men, that volunteered enjoyed the camaraderie and the fact that workrooms were set up not only at chapter buildings, but also at schools, churches, and other public or private facilities for their convenience.
From 1939 to 1946 the volunteers of the Production Corps made: 63,552,649 garments for civilians and the military 1,403,158 infant garments 31,237,900 kit bags containing cigarettes, playing cards, soap etc. 2,481,951,637 surgical dressings Production Corps volunteers were broken down into committees organized by task. They included surgical dressings, sewing, and knitting.
Detailed instructions, patterns, and supplies were issued by the National Headquarters to chapters and each was assigned a quota to fill. Chapters had volunteers in charge of inspection, planning and supplies, workrooms and equipment, instruction, and packing and shipping
Practical, Warm Hand Knits for Service Men WW2 Red Cross Knitting Patterns
This is another Red Cross knitting pattern. The booklet is Volume 318, dated 1940. Below are some images from the booklet and external links which explain more about the patterns.
External Links
The links below are a digitized copy of the content found in the Red Cross knitting document, Warm Hand Knits for Service men. Read Me First: WWII Knitting FAQ
Hand Knits for Service Men – 40 Garments for Men in the Armed Forces
This is a 26-page book that includes 40 different knitting patterns. It was copyrighted in 1944 by Book Productions Industries Inc and published by Ethel Evans.
The book contains knitting patterns for:
Heavy Turtleneck with Sleeves
Army-Navy Pullover
Turtleneck Sleeveless Pullover
V-Neck Pullover
V-Neck Service Pullover
Service Pullover
Convalescent Sweater Jacket
Wheelchair Afghan
Knit Wheelchair Afghan
Navy Pattern Afghan
Cap Helmet
Balaclava Heavy Weight
Balaclava Light Weight
Watch Cap
Navy Gloves
Rifle Gloves
Steel Helmet
Regulation Helmet
Cap
Army Mitts
Army Gloves
Officers Navy Gloves
Wristlets
Trigger Gloves
Wristlet with Thumb
Knee Length Socks
Turtle Neck Tuck In
Navy Chest Protector
Navy Scarf
Slot Mitts
Air Force Ascot Scarf
Merchant Marine Rib Pattern Turtle Neck Sleeveless Pullover
Hospital Bed Socks
Hand Knits for Servicemen can be downloaded as a pdf here.
Ethel Evans is actually the pen name of Ethel Rodman. She is a minor celebrity in the world of knitting and crocheting, as she published several authoritative books in this manner. Her brother is Edward Ray Goetz, a Hollywood producer, songwriter, and musician, who at one time was married to actress Irene Bordoni.
Ethel's sister was Dorothy Goetz who at one time was married to Irving Berlin. Ethel and her sister are buried with their parents in Buffalo's Forest Lawn Cemetery (section 9, Lot 282).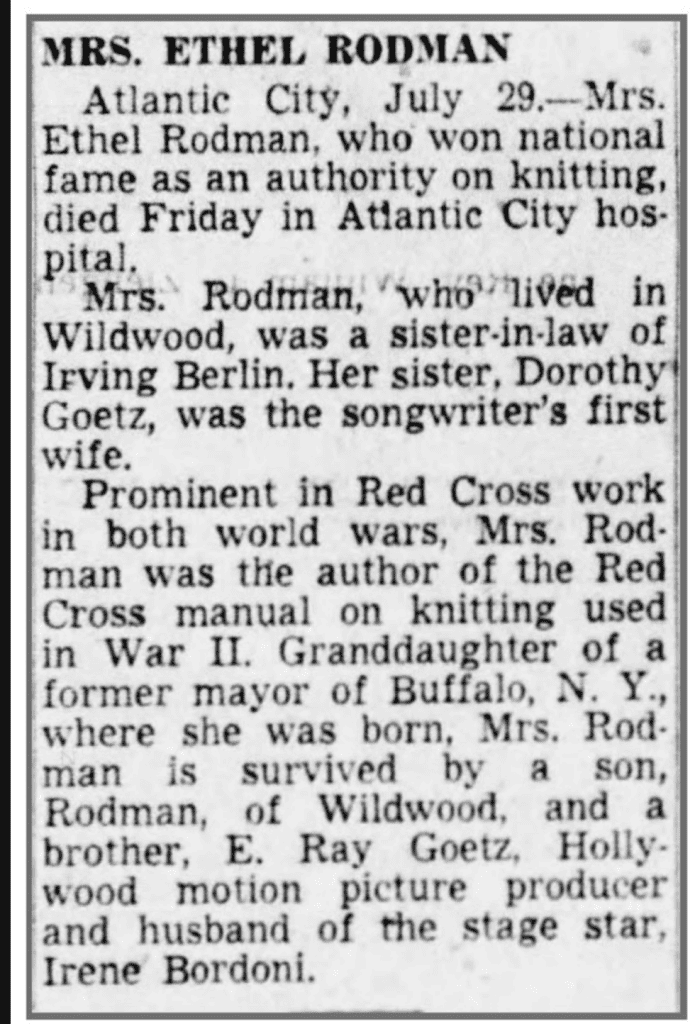 Now, oddly, she has a connection to UFOs. She witnessed a UFO incident called "Incident 88" or "Hackensack Event" because it was reported on Aug 3rd, 1947 in Hackensack, NJ. She sent letters and photos to the Air Force for about a year but stopped near the end of 1948. Incident 88 has a redacted archived copy that you can see.