Description
World History II Review of "isms" and Select topics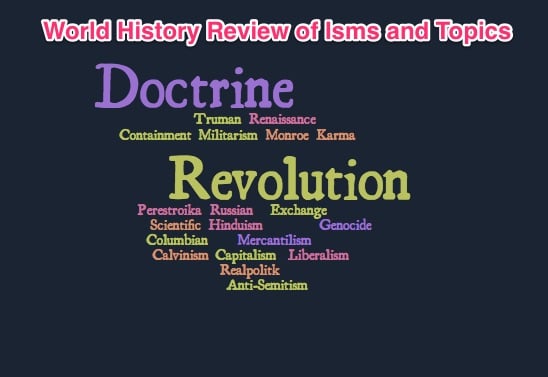 Activities and Lesson Plans were designed for use with the Virginia Standards of Learning 2012 standards. They can be used as part of a unit, homework, or stand-alone activity. Purchasing this product gives the buyer the right to make as many copies as the buyer wants for educational purposes for as long as buyer wants.
World History II Review of Isms and Selected Topics includes a 40 question matching-handout for students that covers all the "isms" and selected topics for World History II students. Students use word-bank to match term with definition. Teachers may use this for an end of the year review either as a homework assignment or an in-class activity. Teacher's may go over the answers in class with students or use powerpoint answers for grading. Activity is a single page.
Teacher answers are included in a powerpoint format. 
Topics Include:
-Militarism -Mercantilism -Capitalism -Monroe Doctrine -1917 Russian Revolution
-Liberalism -Hinduism -Anti-Semitism -Calvinism -Containment
-Genocide -Glasnost -Conservatism -Glorious Revolution -Industrial Revolution
-Mandate System -Humanism -Terrorism -Enlightenment -Protestantism
-Collectivization -Absolutism -Revolutions of 1848 -Perestroika -Scientific Revolution
-Truman Doctrine -Columbian Exchange -Realpolitk -Renaissance -Karma
-Nationalism -Buddhism -Imperialism -Fascism (Nazism) -Reincarnation
-Congress of Vienna -Communism -Commercial Revolution -Treaty of Versailles -Monotheism
File size is less than 1MB and needs an unzipping tool. Requires software that can read Microsoft word and PowerPoint. This allows teachers to quickly make changes to the documents.
Due to the nature of digital products, refunds will not be offered. If you have questions please Contact Me.