Sears Store Brand Record Labels
Links to the 78 Record Project postings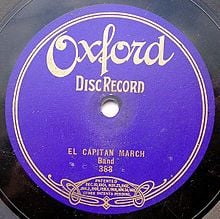 Oxford Record Label (1906-1916)
The Oxford Record Label was a Sears label that came after Sears' discontinuation of their Harvard Label. They are single-sided and can be found as either a 7in. disc or a 10in. disc.  At the start, Sears used Leeds and Catlin from 1906-1908 to produce the record, switched to Columbia from 1908-1909, then to Victor (using their Zon-o-phone masters) between 1909-1911, and then back to Columbia between 1911-1916. Indeed, Columbia continued to produce for Sears under the Oxford label a 7in. disc while Victor produced a 10in. disc. Recordings are mostly anonymous For an excellent review of the Oxford label see the sources below.
Music Genres: Waltz, Black or "Coon" music, Orchestra, Marches, Operettas.
Pre World War II Label: Purple with Oxford in a scripted style.
While not an Oxford Label it is an example of the Negro Laughing Song by George W. Johnson who was the first African-American to sing on a record.
Leg of Mutton Le Gigot, 1913.
Numbers to 1945: Columbia will switch to a new label called Silvertone in 1915/1916.