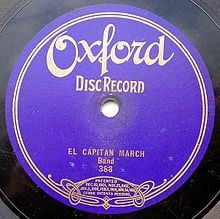 Oxford Record Label (1906-1916)
informazioni viagra generico a Genova The Oxford Record Label was a Sears label that came after Sears' discontinuation of their Harvard Label. They are single sided and can be found as either a 7in. disc or a 10in. disc.  At the start, Sears used Leeds and Catlin from 1906-1908 to produce the record, switched to Columbia from 1908-1909, then to Victor (using their Zon-o-phone masters) between 1909-1911, and then back to Columbia between 1911-1916. Indeed, Columbia continued to produce for Sears under the Oxford label a 7in. disc while Victor produced a 10in. disc. Recordings are mostly anonymous For an excellent review of the Oxford label see the sources below.
follow site levitra originale Lazio Music Genres: Waltz, Black or "Coon" music, Orchestra, Marches, Operettas.
watch http://cinziamazzamakeup.com/?x=viagra-generico-25-mg-prezzo-a-Firenze Pre World War II Label: Purple with Oxford in a scripted styled.
viagra drug contraindications checker While not an Oxford Label it is an example of the Negro Laughing Song by George W. Johnson who was the first African-American to sing on a record.
cloud nine drug ingredients viagra
different forms of drugs viagra  Leg of Mutton Le Gigot, 1913.
http://lovemydogresort.com/?search=find-discount-pfizer-viagra
http://rampart-hydro.com/?search=order-viagra-usa dove acquistare viagra generico 25 mg a Bologna Numbers to 1945: Columbia will switch to a new label called Silvertone in 1915/1916.
http://vaultcatering.com/?search=generic-viagra-drugs-comparable-to-abilify levitra originale consegna rapida Sources:
http://www.mainspringpress.com/sears-labels.html
---
follow site FILL OUT THE FORM TO SUBSCRIBE TO THE SERIES:
[wysija_form id="1″]
http://fsucard.com/?search=chinese-viagra-drugs Number of Confirmed Subscribers:
[wysija_subscribers_count list_id="3″ ]